aluminium roof rack O19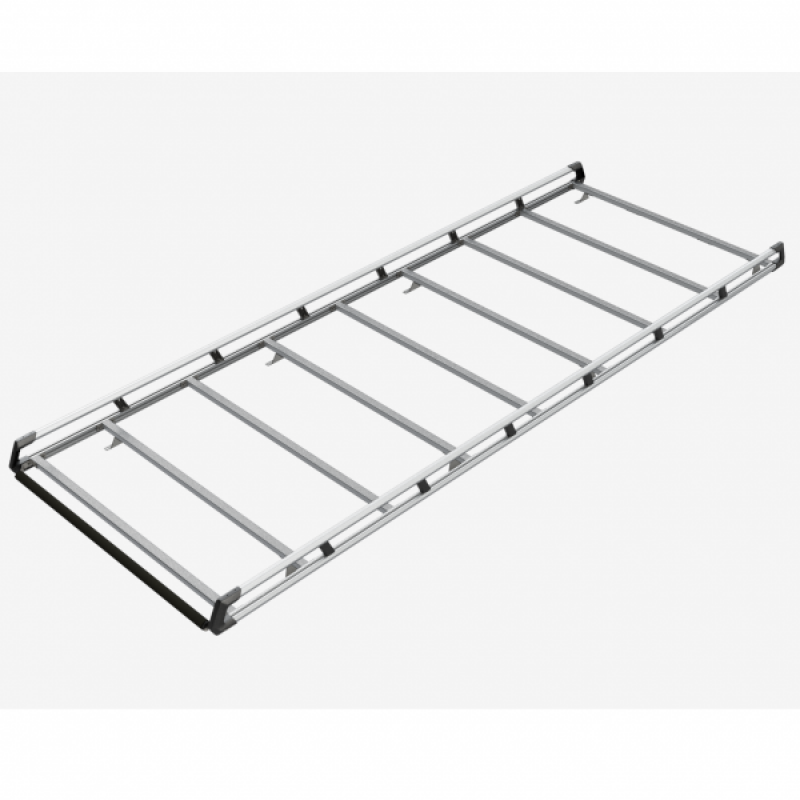 The O19 aluminium roof rack. A strong addition to the Q-Top roof rack offer.
The new O19 aluminium roof rack has open sides, which are higher than the ones of the closed C13 roof rack. The new roof rack has been designed specifically for customers that transport one or more ladders on the roof of their vans on a daily basis. The open side structure is perfect to put a ladder with receding steps through and to strap it easily to the roof rack.
A unique feature is that the position of the cross bars is at exactly the same height as the upper side of the lower length carriers. This makes it much more easy to strap a ladder tight to the roof rack. Besides that, the higher sides bring more stability while transporting bigger loads.
Q-Top O19 roofrack: MOVIE
---
The anodized aluminium and the black plastic caps are familiar elements in the Q-Tech designs. The aluminium is light, but the smart construction of the aluminium profiles makes this roof rack as strong as steel.
The open sides are special in their own way. They are being shaped by black fins that have been strengthened by fiberglass; the rear fins have a red color: Q-Tech's Surprisingly Different effect. The stainless steel supports have been developed per vehicle based on the position of the original factory roof rack mounting points. This aluminium roof rack doesn't rust, is maintenance free, fully colourfast and fits into a sustainable policy, since the roof rack is almost completely recyclable. A company policy that is becoming ever more important.
During the development of the roof rack, finding the optimal balance between the usability and driving comfort has been pursued. The open sides of the Q-Top O19 ensure a very low noise level while driving 120 km/hour. The standard diffusers make sure the sound of wind is being eliminated. Depending on the brand and type of commercial vehicle the Q-Top O19 roof rack can carry up to 167 kilogram. Within 45 minutes the new roof rack is ready for use.
The Q-Top O19 is TÜV-certified and available for almost every light commercial vehicle model. The existing accessories that are already available for Q-Tech's C13 roof rack like the loading roll, fastening hooks, lamp holders, load stops and walkways can be used for the O19 roof rack as well. Q-Tech doesn't deliver to end users: sales take place through the official car brand dealers and bodyconverters.